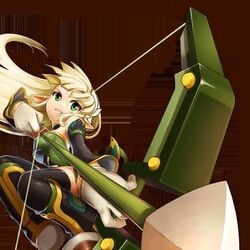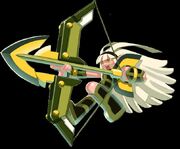 1st Job: Archer - Skill Tree


2nd Job: Crossbowman - Skill Tree (Unreleased)

3rd Job: Arch Ranger - Skill Tree (Unreleased)

4th Job: Nova - Skill Tree (Unreleased)
Saat benua Bermesiah terus-menerus di landa kekacauan karena perang antara manusia dengan pasukan kegelapan, para Elf membuat busur spesial yang terbuat dari sisik Innadrail turun-temurun dari nenek moyang mereka dengan harapan mengembalikan kedamaian di benua. Hanya Archer terbaik yang diperbolehkan untuk memakai busur tersebut. Elite Archer ini di kenal sebagai Arch Ranger.
Arch Ranger memegang panah besar yang kuat dengan desain canggih yang memungkinkan menembakan panah dengan kecepatan yang sangat cepat.
RequirementsEdit
Lire harus mencapai level 30 untuk dapat berubah menjadi Arch Ranger.
Masuk ke dalam Dungeon Ruins of the Silver Knights sekali. Walaupun tidak berhasil menyelesaikan Dungeon, Lire masih menyelesaikan misi.

Masuk dan langsung keluar tidak di hitung. Ini di hitung hanya dengan menyelesaikan atau gagal dalam Dungeon.
Bunuh 120 monster dengan jarak ± 2 level dari Lire.
(membutuhkan Mi-Cash)
   * "Are you ready?" (Beginning)
   * "You are so weak." (Taunt)
   * "I was going to take it easy, but oh well!" (End) 

Basic MovementsEdit
| Key | Effect |
| --- | --- |
| | 1x Hit |
| | 3x Hit + Knockdown |
| ++ | 1x Hit + Dash + 2x Hit (Critical Strike) + Knockdown |
| ++ | 3x Hit + Knockdown + 1x Hit (Double Attack) + Knockdown |
| ++ | 3x Hit + Knockdown + 1x Hit (Double Attack#2) + Knockup |
| ++ | 3x Hit + Knockdown + 1x Hit (Double Attack#3) + Knockdown |
| + | Jump + 1x Hit |
| ++ | Jump + Upper Swing + 1x Hit |
| ++ | Jump + Downward Fire + 2x Hit |
| | Dash + Run |
| + | Dash + About Face + 1x Hit + Knockdown (No Angle Variation) |
| +(Pause)+ | Dash + Bow Swing (1x Hit + Knockup) |
| + | Grab |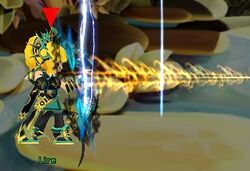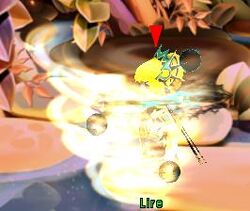 | Level/Type | Name | Effect |
| --- | --- | --- |
| LVL 1 Basic | Hyper Shot | Menembakan panah panjang, lurus ke depan yang mempunyai kemampuan unik untuk menembus daging, langsung melewati musuhnya. (1x Hit) |
| LVL 2 Basic | White Wind | Serangan putaran angin biasa dengan menggunakan busur sebagai senjata dekat. (8x Hit) |
| LVL 3 Basic | Chakra | Serangan kuat yang mengumpulkan kekuatan, menembaknya ke atas, dan turun seperti hujan. Note: Serangan ini tidak menyerang saat berada di atas, tidak seperti skill Arrow Rain.(20x Hit) |