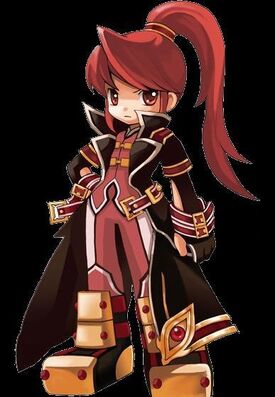 Untuk kerja kerasnya dalam melawan Kaze'aze dan Dark Anmon, Elesis telah di beri kehormatan untuk menyandang gelar Savior. Gelar Savior ini hanya di pakai oleh Knight terkuat yang mempunyai kemampuan yang melebihi dari kemampuan manusia biasa. Mereka tidak hanya melindungi orang dari yang jahat, tetapi mereka juga melindungi seluruh dunia dari yang jahat.
Savior memiliki kecepatan yang luar biasa sementara mereka memiliki sepasang pedang kuat yang bernama Ssanggeom. Setiap pedang adalah bagian dari tangan Savior. Musuh yang melawan Savior dalam pertempuran di ketahui mati dalam sekejap, karena kekuatannya yang hebat. Savior adalah seorang ahli pedang luar biasa yang menyadari kelemahan dari satu pedang dan membuatnya untuk memakai dua pedang.
RequirementsEdit
Elesis harus mencapai level 40 untuk menjadi seorang Savior
GP Mission
Edit
(18,000 GP)
Menyelesaikan Partusay's Sea 6 kali dalam mode Champion.
Bunuh Kamiki di Kamiki's Castle dan dapatkan 6 Savior's Lesser Orb dalam kesulitan apapun
Bunuh Basilisk di dalam Temple of Fire dan dapatkan 6 Savior's Greater Orb dalam kesulitan apapun.
Selesaikan Sanctrum of Destruction 4 kali.
Cash Mission
Edit
(Membutuhkan Mi-Cash)
"Are you ready?"(Beginning)
"Is that all ya got?"(Taunt)
"You're no match for me!"(End)
Basic MovementsEdit
| Keystrokes | Effect |
| --- | --- |
| | 1x Hit |
| | 5x Hit + Knockdown |
| ++ | 2x Hit + Dash + 2x Hit (Critical Attack) + Knockup |
| ++ | 2x Hit + Knockdown + 2x Hit (Double Attack) |
| ++ | 6x Hit + Knockup + 2x Hit + Knockdown |
| | Dash + Run |
| + | Dash + 2x Hit + Knockdown |
| + | Dash + Backstep |
| ++ | Dash + Backstep + 1x Hit |
| + | Jump + 1x Hit |
| + | Jump + 2x Hit |
| +(Hold)+ | Jump + Upper Slice (2x Hit) |
| +(Hold)+ | Jump + Slam (1x Hit) |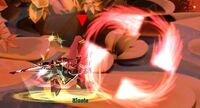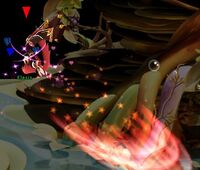 Level/Type
Name
Effect
LVL 1 Basic
Round Crash
Sebuah serangan hebat yang menggunakan 2 pedang untuk menghantam tanah. (2x Hit)
LVL 2 Basic
Fated Circle

(Flaming Circle)

Dengan menggunakan kekuatan hebat, Elesis membuat roda api yang berputar untuk menyerang lawannya. (7x Hit)
LVL 3 Basic
Chaos Savior
Savior menyerang seperti ballet yang mematikan. Mengangkat dirinya ke angkasa, dan menghabisi lawannya dengan hantaman serangan gelombang energy yang hebat. (15x Hit)